I believe that Child Critical Illness coverage is extremely important and something every child should have. I say this with conviction and as a father, who purchased policies for both my children. Child CI, is an affordable way of providing much needed financial support in the event one of our children become critically ill. I'm a strong advocate for this coverage and hopefully after you read this blog, you will feel as passionate about it as I do.
The Benefits
-Coverage amounts between $10,000 to $1,000,000 per child
-Application process is quick and easy
–20 year pay. The policy is fully paid up and the coverage is in force for life after the 20th year. (You only pay premiums for 20 years). Coverage will be in force for the rest of your child's life and you don't need to pay for it. It can also be transferred over to your child at any time after they reach the age of majority
–Refund of premiums optional rider. You will receive a FULL 100% refund of premiums if the policy is cancelled any time after the 20th year
-Covers a wide variety of illnesses and childhood illnesses
COVERED CONDITIONS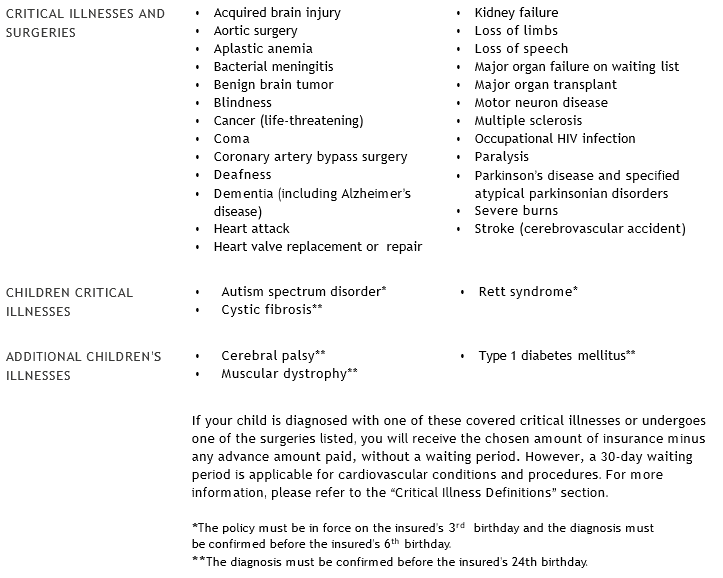 Why?
-Benefit is paid out tax free
-Take the necessary time off work and seek out of province care if necessary
-Relieve financial stress and focus on your child's recovery
-Provide for medical assistance/devices, private hospital rooms, travel and life expenses
-You don't need to deplete taxable retirement assets to assist with paying the bills or replace lost income
I would be happy to go over a Child CI illustration, product summary and answer any questions you may have.
Covered conditions are listed from Desjardins Insurance Child Critical Illness illustration.