Income protection is an important part of risk management. Unfortunately, it is a gap that most Canadians don't realize.
The risk of suffering from a critical illness is greater than dying prematurely. Yet, in general, purchasing insurance to protect oneself from a critical illness and one's income earning potential, is far less common than purchasing life insurance.
Why critical illness protection makes sense:
While many Canadians have heard of critical illness insurance, they may not fully understand the importance it plays as part of a sound financial plan. Not taking steps to insure your income, is like riding in a car without an air bag. Is it worth the risk?
Hidden and out-of-pocket costs may include:
Medication and treatment options not covered by government and employee health plans
Increased expenses related to day care, hospital visits (including parking and food)
Home care assistance & home renovations to accommodate illnesses
Covering losses of income (for both the insured and caregiver)
Dipping into investments to cover costs can seriously deplete retirement resources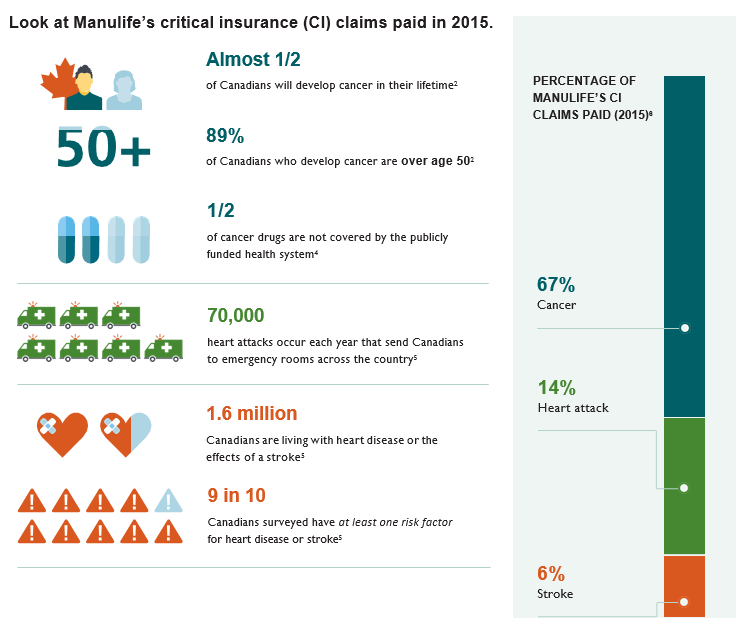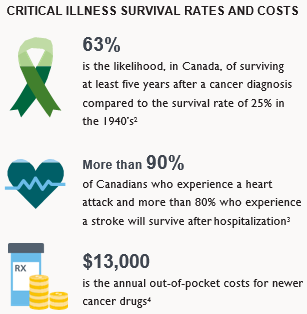 1 According to the Manulife InsureRight risk calculator 2 According to a report published by Canadian Cancer Statistics, Canadian Cancer Society, 2015 3 http://www.huffingtonpost.ca/2014/02/03/canadian-heart-attacks-and-stroke_n_4717180.html 4 Average cost per patient for newer oncology drugs is $65,000 per year with an average co-insurance amount of 20 per cent. Report: Cancer Drug Access for Canadians, September 2009, Canadian Cancer 5 According to a poll conducted by the Heart and Stroke Foundation. 2014 Report on health – Creating Survivors, Heart & Stroke Foundation 6 Based on coverage count of active claims for individual non-cancellable CI products.